Brewers and pubs showcase sustainability from grain to glass ahead of World Earth Day
Ahead of World Earth Day on 22 April, UK brewers and pubs have come together at a parliamentary event showcasing their business innovations designed to brew and serve cleaner, greener beer. 
Hosted by the British Beer and Pub Association, the parliamentary event saw brewing and pub businesses showcase the steps their businesses have taken to reduce their environmental impact, and outline what more could be done by Government to further their sustainability efforts. 
Attended by MPs from across the political spectrum and businesses including Heineken, Molson Coors, Lucky Saint,  Punch, Carlsberg, Adnams, ABinBev and Asahi, the showcase provided an impressive insight into the range of different actions pubs and breweries are taking in their journey to net zero. Businesses showed how they were making investments in regenerative farming practices, electric vehicles, and environmentally minded packaging to name a few. 
The occasion was also an opportunity for MPs to hear directly from businesses on the extra opportunities that could be taken if the Government invested more in the sector's sustainability initiatives.
Businesses outlined three key asks to support their efforts on sustainability: 
Reduce

complexity and costs of the environmental regulatory framework

 

Resource

the development of low carbon technologies through greater investment

 

Release

potential for carbon reduction by providing funding opportunities for businesses

 
Addressing attendees, Business Minister, Kevin Hollinrake MP said: "Pubs and breweries are at the heart of our local areas, and I commend the steps they are taking to reduce their environmental impact for the benefit of the communities they serve.  
"The government is committed to making the UK a net zero economy by 2050, and it's great to see the brilliant work being done by these businesses in support of this goal."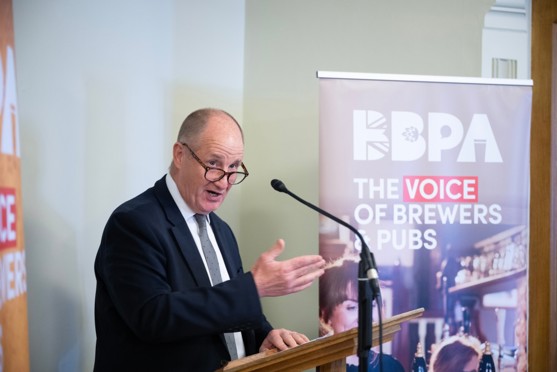 Speaking at the reception, Emma McClarkin, Chief Executive of the British Beer and Pub Association said: "We are proud to be leading the way on sustainability with our brewers and pubs innovating and creating new ways to be even greener throughout their businesses.  
"Today's event is just a snippet of what our sector is coming together to achieve, instilling sustainability from grain to glass. As an industry we are making great strides but to meet targets and continue to strive for a greener future. However, we also need investment and support from Government to do even more, for example the delay to DRS to ensure it will work effectively is welcome and we look forward to working with policy-makers on this and other steps on our road to net zero."   
For more information and inspiration on how pubs and breweries are innovating in sustainability visit: brewinggreen.org